2013 Garage Girls Calendar - Beautiful Models Hard at Work!
"All Killer, No Filler" is the only way to describe the exciting Garage Girls motorsports themed pinup Calendar photographed by Jim Gianatsis featuring a close-up look at this year's most beautiful FastDates.com Motorcycle Calendar Kittens, but without the motorcycles getting in the way! This is the perfect calendar for any motorsports enthusiast who appreciates fine bodywork and a hot running engine. And it's the perfect 2nd calendar to for the house or garage if you also have one of the FastDates.com Motorcycle Calendars!
Featured this year are the hottest, sexiest new FastDates.com Calendar Kittens from the other 2013 FastDates.com Calendars including Shannon Baucom and Camilla Chiniquy, centerfolds Pepper, Bree Daniels, Layla Bella, plus Candise Lakota, Ekaterina Koplenko, Alena Savostikova and Alex Carson. They may not know how to change a wheel, but who cares!
Calendars feature a full 16-months starting in September preceding the cover year for an extended selling season. Full color 15"x15" large format design on high quality art card stock, spiral wire bound with hang hook, clear plastic envelope sealed w/ cardboard insert for protection. UPC and ISBN bar coded. - Click on Covers to Order Now
You'll also find our Garage Girls in some very revealing pictorials in MEMBERS CORNER

Click to Order Online

2013 Garage Girls
15-inch Spiral Bound
ISBN 1578651530


SOLD OUT!

2012 Garage Girls
15-inch Spiral Bound
ISBN 1578651336


Click to Order Online

2011 Garage Girls
15-inch Spiral Bound
ISBN 1578651336


Click to Order Online

2013 Iron Lace
Centerfold Models and Custom Bikes
15-inch Spiral Bound
ISBN 1578651522


Click on Cover to Order Online

2013 Fast Dates
SBK Racebike Pinup Calendar
SBK World Superbike, Performance Machine
ISBN 1578651514


Click to Order Online

2012 Iron Lace
Centerfold Models and Custom Bikes
15-inch Spiral Bound
ISBN 1578651425
Order Online Now or by Phone!
Click on the Small Calendar Covers Above or the Amazon.com Link below:

Phone Free (01) 800-461-1226
Mon-Fri 8am - 5pm Los Angeles time
from Van Leeuwen International (01) 818-896-2200
Additional Sources Worldwide:
| | | |
| --- | --- | --- |
| Amazon.com USA & Canada / Online Ordering | USA 1-800-366-3645 | USA 1-877-668-6872 |
United Kingdom & Europe: Crossbow +44 (0) 208-669-6400
Duke Video +44 (0)162-464-0000 • W&W Cycles, Germany +49 (0) 931-250-6116
Zodiac, Europe +31 (0) 297 28 86 21 • Custom Chrome Europe, +49 (0) 671 88888 0
Worldwide visit: Chain Links page • New Distributor inquires go HERE
Dealer Orders: Visit the Chain Links page for our Distributor Contacts Worldwide
Order early! News calendars available August 1st.
For Past Edition 1991-2011 Calendars visit our Collectors Corner.
Garage Girls is a full color 15 x 15" spiral bound calendars
revealing 16 months beginning with September. When ordering specify the calendar name, quantity,
your name, address, and phone number. 2008 Calendars will be shipped after August 1, 2007.
Mail with check, money order, Visa/MasterCard info for $16.95 each, plus $5 S&H per US order.
International orders should use charge card and specify Air or Ground shipment. Postal Mail Orders to:
FastDates.com Calendars, c/o Van Leeuween, 13275 Paxton Street, Arleta, CA 91331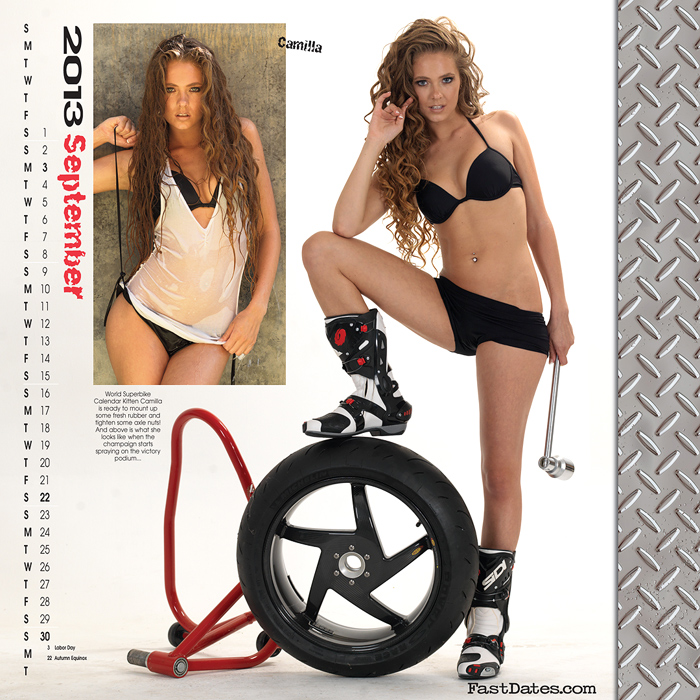 Above: Calendar Kittens Laya and Candise get wet and frisky cleaning up the garage!
Below: Sex Kitten and Barely Legal adult film star Bree Daniels.
Find out more about the making of the Garage Girls Calendars in Calendar Girl News.
You can view and download all the FastDates.com Calendar pages as full size screensavers,
and see many of our Calendar Kittens in sexy pictorials in Member's Corner
Hot Calendar Girl and Bike News! Go to: Fast Dates • Garage Girls • Iron & Lace
Click here to see even more Calendar Bikes and Calendar Kittens...