Order Individual Unsigned Ducati Corse Books at Amazon.com • Calendars at Amazon.com

Exclusive Autographed Collector's Package!
The all new Ducati Corse World Superbikes 224-pg book and your choice of the 2013, 2014 etc Fast Date World Superbike Calendar
Personally autographed to you (or the name you request on the PayPal.com Order Form) by Jim Gianatsis and shipped direct to you.
Book $29.25 • Signed Collector's Package Book w/ CalendarJust $49.95!
Distributor/Dealer Sales USA & World Wide: Use the Order buttons above or contact direct: Gianatsis Design

Collector's Package Buyers Comments:
• Hi Jim, I just got the book and calendar and I would like to say thanks for the great service. I have had a quick look through it and the photography is amazing. I look forward to many an evening reading about those beatiful bikes. From one Ducatisti to another MILLE GRAZIE!
- Tim Scanlon, Waterford, Queensland, Australia
The Fast Dates World Superbike Calendar Presents a History, Track Tests,
Team Rider and Designer Interviews, and Pictures of All the
Ducati Corse World Superbikes
by Alan Cathcart and Jim Gianatsis
The year 2011 marked the 25th anniversary of the creation of the first, of a now legendary line of Ducati Superbikes with their trademark Desmoquattro 4-valve V-twin motors hung below a lightweight trellis tube frame, race bikes that went on to dominate the then new World Superbike Championship for next quarter of a century. Arguably the most significant motorcycle engine design of any kind since the CB750 Honda, and surely the most remarkable and successful volume production engine format ever used in world competition by any single manufacturer, the venerable Ducati 4-valve desmodromic engine recorded to this date 14 World Superbike Championship titles in the 24 year history of the world's premier production bike based world roadracing series.
This book chronicles the development and history all five Ducati Corse World Superbike generations from the first Desmoquatro 750cc prototype to the revolutionary new 1199 Panigale Superquadro together with interviews with the Ducati designers, team racers and managers. This unique insight is provided by renown motorcycle racer and journalist Alan Cathcart who has had the envious and often exclusive opportunity to test ride every one of the factory Corse race bikes over the last 25 years, those tests of which are featured here. Photography of the Corse factory bikes and riders is proved by the world's most renown motorcycle roadracing photographers.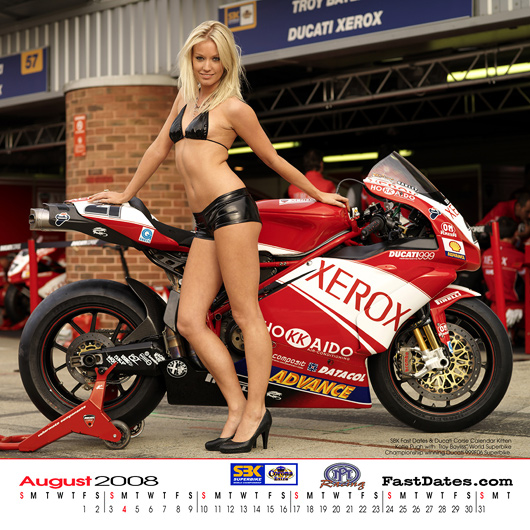 Adding icing to the cake, and to warrant this big collectors edition book, included are the incredible high definition photographs of all the factory Corse bikes taken by former racer, motojournalist and photographer Jim Gianatsis as featured in the Fast Dates World Superbike Calendars from those years with the beautiful Fast Dates Calendar Kittens who served as the official SBK and Team Ducati Corse grid girls at the race where the bikes were photographed.
This 224 page large format collectors edition book begins with a Forward by Massimo Bordi, legendary designer of the Desmoquattro back in 1974. Then it dives into the technical details, revealing photography and Cathcart's exclusive tests of every one of the factory Ducati Corse Superbikes from the First Generation 851cc Daytona raced prototype, to Doug Polen's Fast by Ferracci 888/926 World Championship winner. Followed by the Second Generation 916/955 machines, the Third Generation 999, the Fourth Generation 1098/1198, to the all-new Fifth Generation 1199 Panigale. Included along the way are interviews with all the factory riders and World Championship winners from Doug Polen, Carl Fogarty and Troy Corser, to Neil Hodgson, James Toseland, Troy Bayliss, Nori Haga and Carlos Checa. While the tradition continues with a detailed look at the new 1199 Panigale and a interview with the designers who created it, and an exclusive track test of the newest Generation 1199 bike by Cathcart and 3-time World Superbike Champion Troy Bayliss.
This is a must have book for every Ducati and motorcycle roadracing enthusiast. Gianatsis Design has produced and published the book in a beautiful large format 12x12-inch hard cover design coffee table style Collectors Edition Book featuring 224 pages in full color printed on 100# dull coat art paper for the best possible reproduction and presentation. Books are individually shrink wrapped and have a printed cover wrapper.
Suggested Retail: USD $69.95 • UK £55.00 • EUR $55
For Large Distributor and Dealer Orders contact us direct:
Fax or Mail Purchase Order to: Gianatsis Design. Include Shipping Instructions freight collect. No CODs.
SBK World Superbike
1996 and 1997 Yearbooks $16.95!
Rare! The Official SBK World Superbike Yearbooks, Large format hard cover 10x12.5" size, 160 pages full color. A technical review of all the bikes, bios of the riders, and race reviews. Plus beautiful full page color action and pitside photography. The 1996 and the 1997 Season Annuals are available.
• The 1996 SBK Yearbook features complete race by race coverage of the 1996 season, rider profiles and a technical review of the factory bikes.
• The 1997 SBK 10 Year History Yearbook features a 10-year WSB Series history, complete with photos and year-by-year statistics.
Ordering Past Edition Collector's Calendars and SBK World Superbike Yearbooks
AVAILABLE from Gianatsis Design by Charge Card, PayPal or Bank Debit through Pay Pal Purchase, or by Postal Mail Order
Order Current Calendars directly from our Mail Order Retailers or Distributors as shown on the individual Calendar Pages.
Order from Gianatsis Design, 4801 Reforma Road, Woodland Hills, CA 91364 USA
Phone (01) 818.223.8550 • Fax (01) 818.223.8590 • JGDesign@FastDates.com
Return to FastDates.com Sportbike Books