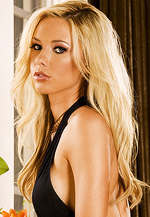 Hey Tiffany. If you weren't a model now, what would you be doing?
Tiffany: I'd probably have a boring 9-5 job.
What are some things you're known for and things you have coming up?
Tiffany: I've worked with Playboy. That's how I got started as a model. More recently, I just shot for the TV show "Las Vegas" again and was on the cover of Import Tuner and Sport Truck magazine. I'm also in a couple of upcoming calendars.
Is everyone in the business nice to work with?
Tiffany: Well, I've had mean girls say modeling is degrading and a lot of mean things, yet they are trying to do what I do. (Laughs) If a girl is going to get into modeling, she has to be prepared for constant judging, but that's the job.
Sounds like high school.
Tiffany: Since high school, I've learned to not care what people think because their opinion doesn't matter anyway.
Are there any causes you feel strongly about?
Tiffany: Hugs, not drugs! (Laughs)
We'll take a hug! What was your childhood like?
Tiffany: It was great. I have one sister. I hated school. I had ADD and couldn't pay attention. When I was little, I wanted to be everything when I grew up. So I guess whatever I end up doing, at least I'll be satisfied. (Laughs)
What are your life plans these days?
Tiffany: My hopes and dreams are to just be happy and able to take care of myself and not rely on anyone else for that. You have to stop planning out and trying to control your life because sometimes it turns out better than what you had planned. A few years ago, I would have said I want to be married or somewhere close to marriage. Wow, has that changed!
What kind of non-husband material are you attracted to these days?
Tiffany: (Laughs) I like men who are funny and considerate and not insecure. If a guy wants to meet a girl, he just needs to be himself. If he wants to keep her as his girlfriend, he needs not to cheat!
Have you ever dated a rotten bastard? Your tone sounds like there's a story.
Tiffany: Of course, the cheaters. I never give a bad relationship a second chance. I've also dated guys who are so insecure with themselves. They would analyze everything and get mad over everything and too emotional for me to handle.
Is there anything you wish you could change about men?
Tiffany: Yeah. Stop hitting on women when they have wives or girlfriends! (Laughs)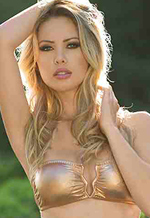 Wise advice. What do you think a woman should do before she settles down?
Tiffany: Professionally, she should make enough money to take care of herself. And she needs to have dated around so she knows what she wants in a husband.
Sounds like you are in no hurry to walk down the altar, but you're so young so you probably need to sow your wild oats first anyway.
Tiffany: I don't need to get married, but if the right person comes around, I definitely will get married and have kids. I don't have a time limit, though I do want it all to happen at some point.
What does a guy need to do in order to get a second date with you?
Tiffany: We would have to have a good conversation and things in common. And of course he would have to be a gentleman.
And what kills any chance of a second date or getting you into bed?
Tiffany: If he talks about how much money he makes or starts bragging trying to impress me. If that happens, it's over!
What's the most romantic thing a guy has ever done for you?
Tiffany: When I was sick in bed, my guy sent me flowers and a teddy bear. I thought that was romantic.