Exhibitor / Vendor Information & Registration
The 2018 Los Angeles Calendar Motorcycle Show Concours de Elegance
& Calendar Girl Music Festival • Sunday October 7th 2018 • 11am - 5pm
Vendor Setup Time is Saturday morning 9:00 - 10:30am
Paramount Ranch State Park
2903 Cornell Rd, Agoura Hills, CA 91301USA
Join us for the premier Custom, Cruiser, Sport and Performance Streetbike Motorcycle Show on the West Coast featuring thousands of spectators, the world's top motorcycle TV and Print Media, and the participation of major manufacturers and top builders from around the world. We draw a very very affluent West Coast audience and high end builders sell many bikes at our Show. Our Exhibitor space rates are extremely affordable at around half the cost of comparable events our size. Thanks for your support! - Jim Gianatsis, Producer
IMPORTANT NOTES: The Show in on an Enclosed concrete patio of the Sagebrush Cantina. Vendor rates are really low at $100 for a 8x8 Bare Space on shaded pavement. Each additional person with your booth / display will need to purchase a $20 Genera; Admission. Some electrical hookups are available. We can provide Tables, Chairs. Canipies are not needed as the patio has a shade cover.
The Show is Only on Sunday October 7th 2017. Vendor Setup Time is Saturday morning 8:00-10:30am.
All booth items (tables, chairs, canopies, displays, products, motorcycles) will need to be carried / carted / rolled in from the Parking Lot about 50-100 feet away. There is no vehicle / trailer accessinto the event. Vendor unloading must be done from the Vendor Parking Area (see the map). Do Not Park, Unload On or Block the Access Driveway.

After Unloading, all Trucks and Cars with Trailers should be parked 1-block away in the free :
El Camino Shopping Center, 23335 Mulholland Drive. Woodland Hills, CA 91364
so to not take up valuable Spector Paid Car Parking in the Sagebrush Cantina Parking Lot

See the Show Exhibitor Layout Map
1). Exhibitor / Vender Space Costs
Click on Exhibitor Registration Purchase Buttons Below - Space is sold in 10x10 foot increments
Space is sold in 10x10 -foot increments. If you have a 10x22' display trailer with a 4-foot tow arm (28 ft long total length),
and possibly motorcycles, a canopy and product tables placed along side the trailer, you will need to purchase a 20x30 - foot
space which = (6) spaces. Your entire display must fit in your paid area. Other exhibitors may be placed directly next to and
behind your display space, and the spectator walkway in front of your paid space must be kept clear.

WHO ARE YOU? In addition to your Exhibitor / Vendor Space Purchase on EventBrite below, please send us a separate Email with your:
• Company contact information including your Name, Company Address, Phone, Email
• Describe your Display and the Product(s) being sold on site or displayed. Email us at: Contact (at) FastDates.com
Purchase 2016 Admission Tickets, Bike Contest and Exhibitor Space HERE!
Space is limited and will sell out, So Don't Delay. Motorcycle Parking is Free. Advance Ticket Sales are Non-Refundable.
2). Exhibitor / Vendor General Information

The Promoter Gianatsis Design Determines Your Exhibitor Location
Returning Exhibitors, Sponsors, Calendar Bike Builders, Exhibitors with special interest displays and attractive spokes models always receive preferential location consideration so the Show looks good, making spectators stay longer and return again next year. We also alternate similar Exhibitors to keep competitors apart, and place interesting Exhibitors to create a balanced flow of spectators for everyone's benefit.

In the Email you send us, you can request preferential location placement. Examples: Same Great Spot as Last Year! Spokesmodel Angelina Jolie Signing Posters! Next to our bike painter Sloppy Bob! Big Rig or Display Trailer which needs to be in place the day before.
Exhibitor Packs / Passes / Vender Layout Maps will be signed for In Person at the Back Gate during Vender Set-Up Times.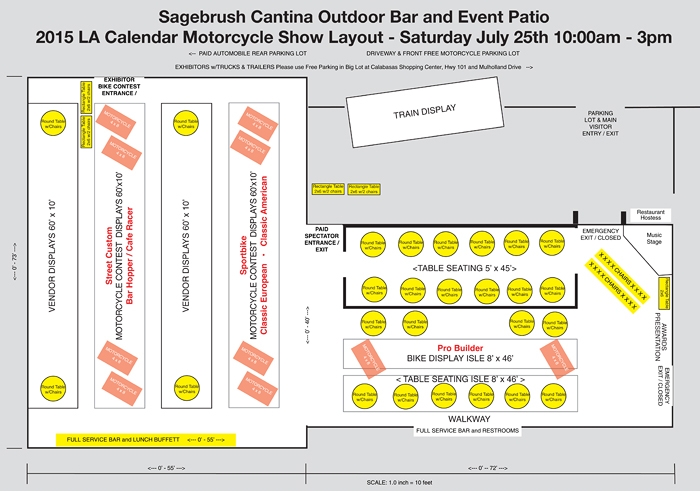 Show Exhibitor Map:. We place you based on your request on the Registration Form, your Seniority with us, and where we feel it is best for spectator flow and the quality of the Show.


Sponsorships & Special Activities - If your company would like to be involved as a sponsor of the Show, of the Calendar Bike Building Championship, or perhaps have a special activity for our Attendees, please reach us with the contact information at the bottom of this page, or GO HERE.
The Los Angeles Calendar Motorcycle Show Sponsorships
1). LA Calendar Motorcycle Show & Calendar Girl Music Festival ASSOCIATE Sponsorship $1,500
Your company's national and worldwide marketing exposure and value at America's Premier Street Motorcycle Show includes:

• Your company receives complimentary exhibitor / marketing space at the 2016 LA Calendar Motorcycle Show.
• Full banner display space throughout the Show venue.
• Your Company Name / Logo / Web Address appears and in ALL our National and Regional print advertising, in press releases, and in Event Fliers distributed in all motorcycle dealerships throughout the Southwestern United States.
• Your Company Name / Logo / Web Address together with a 1/2-page Product Ad appears on the www.FastDates.com Bike Show website.
• No conflicting Associate Sponsorship will be offered to your industry competitors.
• A 1/2 page ad in the FAST 2017 Calendar Yearbook - our 120 page online magazine seen world-wide
OPTIONAL EXTRA:
• You can also be the Title Sponsors of the Fast Dates World Superbike, Iron & Lace Custom Bike, or Garage Girls PinUp Calendar for just $1,500 additional, which includes your logo / web address on the Cover and each Page / Month of the 16-page calednar , plus a 12-page d in the Calendar.

2). LA Calendar Motorcycle Show TITLE Sponsorship $3,000
Your company receives all the above sponsor privileges, plus:

• Headline name / logo placement in all Show advertising materials, magazine ads, flyers, event programs, banners, radio ads, web, etc.
• A larger 1-page ad in the FAST 2017 Calendar Yearbook - our 120 page online magazine seen world-wide
• Additional event space for Show promotions.
• Complimentary Admission for Company Employees, Dealers, Guests up to 50 admissions included, no charge.
OPTIONAL EXTRA:
• You can also be the Title Sponsors of the Fast Dates World Superbike, Iron & Lace Custom Bike, or Garage Girls PinUp Calendar for just $1,500 additional, which includes your logo / web address on the Cover and each Page / Month of the 16-page calendar , plus a 12-page ad in the Calendar and a 1=page a in th FAST Calendar Magazine.

View the current FAST 2016 Calendar Yearbook online digital magazine which is available free to motorcycle enthusiasts and the general public world-wide.
Your sponsorship and display ad will be featured here in the upcoming 2017 Edition released with the new 2017 FastDates.com Calendars on July 1st 2016: http://issuu.com/jimgianatsis/docs/fast2016calendarmagazine/1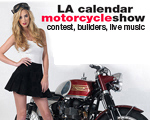 Exhibitors - Please Promote Your Attendance at the
Los Angeles Calendar Motorcycle Show
for the benefit of your customers and visitors. Copy and paste this banner ad
onto your company's website with an active link back to: http://www.FastDates.com/BIKESHOW.HTM
3). Exhibitor / Vendor SetUp Information and Requirements
• Exhibitor Location will be given to you at Back Gate Check-in.

• Exhibitor Big Rig & Trailer pull-in and parking Saturday Morning 9:00-10:30am
Then finish your product set up Sunday 7:00-10:00am. Due to tight confines of the Grass Venue, Display Trailers and Big Rigs
will be placed just in front of the Event Lawn Front Entrance Gate on the access road. Reservations required for Saturday setup.
Vehicle access inside the event lawn is limited. No trailers will be allowed in to unload inside the Event Grounds on Sunday morning 7:00-9:00am.

• Small Exhibitor pull-in and parking Sunday, Show Morning Saturday Morning 9:00-10:30am. Vehicle access is limited. No Towed Trailers allowed.
Event opens at 10am. Late arrivals after 8:30am Sunday may have their booth space relocated to another location to facilitate event setup. No Vehicle entry after 8:30am. Call us to discuss any special access needs.

• Exhibitor Parking Is located off the access road, north of the Event Lawn. Please do not take up close spectator parking.

• Show Open to Public 11am-4pm Saturday. No Exhibitor Breakdown or Bike Exit until after Show closing 5pm Sunday.

• Exhibitor Take-Down Only after Show closing on Saturday at 4pm. You will be responsible for clean-up of your space.

•Your Exhibit Space/Booth should be self contained / free standing You are located outdoors on grass or paved asphalt in the sun. You may want a canopy, hard pads for bike kickstands and centerstands. No Electrical or phone hook-ups are available.

• You Can Not Extend Out of Your Paid Space - Trailer Hitches, Tow Bars, Ramps and Opening Doors must fit and open in your paid space. Other exhibitors may be located directly to your sides / rear, with fire lane/walkways in front. Bring partitions if needed. You can not extend into walkways.

• Business License Not Required.

Refund Policy: Payment in full required to reserve your space. 80% refund if you cancel before June 1st, after which no refund.
No refund if the event does not take place due to circumstances beyond our control including weather, an act of god, or cancellation by a government agency. We reserve the right to refund your registration should we reach capacity and have another exhibitor more appropriate to the Show theme. No refund if you do not fit in your paid space and are removed.

• No Armed Overnight Security Provided on Saturday night
But you are still responsible to secure and insure your own property. The promoter Gianatsis Design and Malibu Golf are not responsible for loss or damages to your property while at the Show, or any injury you may cause.
• No Overnight Camping Inside the Show includes no sleeping inside exhibitor rigs, motor homes on the Show Grounds or the Parking Lot.

• No Exhibitor Break Down or Vehicle Exit before 4pm Sunday evening: This includes motorcycles inside your display.
No riding motorcycles inside the Show during spectator hours.
• No Electrical Power or Phone hook-ups are available. (Note: there are elecrical hook-ups in some areas.
Call us to discuss your needs and placement near an available electrical hook up.)
This is a grass park and asphalt areas. Your exhibit needs to be self sufficient.
4). Exhibitor Confirmation
We will send you an Email Confirmation within 2 weeks of receiving your Registration Form in the mail, and/or you will be listed as a Confirmed Exhibitor here on the main Bike Show page. Please include your Email address on your Exhibitor's Registration Form so we can contact you and confirm receipt of your Registration Form and Payment.
You Must Send Us Your Registration with Payment in Full including any late fees to be registered

You Exhibitor Map & Passes will be Picked Up at the Back Exhibitor Gate during posted Exhibitor Setup Times.
Exhibitor layout maps showing your placement at the Show will be posted here online around July 7th. You will receive (1) Worker Wrist Bands for admission for your first 10' x 10' paid space, then (1) additional Worker Pass for each additional 10 x 10' space purchased up top 5 Free Passes. (Example: 20 x 20' space/ 4 spaces = 4 passes). Additional Passes will be cost normal Spectaor Admision Prices. Exhibitor Map and Staff Passes will be collected and signed for in person at Exhibitor Check-In at the Exhibitor Back Gate before 10 am Sunday ,


If you would like to contact us for any reason, Please use do so 9am - 5pm Weekdays Only:

Gianatsis Design Associates
Phone 818 223 8550 • fax 818 223 8590 • Contact (at) FastDates.com
Return to: Bike Show Main Page