2014 LA Calendar Best of Show winner Image Vehicles International with Calendar Kittens Petra and Jitka, singer Katie Cole.
We Have the Winners!
Complete Coverage of the 2014 LA Calendar Motorcycle Show HERE
Malibu, CA, Sunday July 20th 2014 - The 2014 edition of the LA Calendar Motorcycle Show continued its now 23rd year tradition as the premier outdoor streetbike event in America with producer photographer Jim Gianatsis moving the Show this year to the beautiful green lawns of the Malibu Golf Course among the twisty canyon roads in the Santa Monica Mountains alongside the Pacific Ocean. Highlighting this year's exciting activities was the emergence of another new and soon to be renown custom bike builder to the sport for which the Calendar Show is known for cultivating.
Taking Best of Show in this year's in the Calendar Bike Building Championship was Calin Senciac's Image Vehicles International motorsports fabrication shop with an incredible custom billet aluminum designed chassis built by Terry Ward and the shop crew, housing a legendary 1979 Honda CBX 1047cc air-cooled in-line 6-cylinder engine. Image Vehicles now joins other celebrity builders including Jesse James, Russell Mitchell, Jesse Rooke, Roland Sands, Jim Giuffra, Shinya Kimura among many who first premiered bikes at the Calendar Show and had their winning bikes featured in the FastDates.com Calendars to assure their place in history among the premier custom bike builders in the world. CONTINUED HERE


The 2015 Los Angeles Calendar Motorcycle Show Concours de Elegance
& Calendar Girl Music Festival • Sunday July 26th 2015 • 10am - 4pm
This is our Tenative Show Date for 2015. Please check back here early in 2015 for confirmed details of date and location.
The 2015 LA Calendar Motorcycle Show continues its now 24- year tradition as the premier outdoor streetbike event in America with top Celebrity Custom Bike Builders, the Calendar Bike Building Championship & Concours d' Elegance, selected Vendors and Exhibitors, Calendar Girl Music live performances. The Show marks the world premier of next year's new 2016 FastDates.com Motorcycle PinUp Calendars featuring the world's top roadrace and custom motorcycles with the beautiful Calendar Kittens featured in the Calendars in attendance at the Show.
Help Us Fight Cancer!
With each Advance Ticked Purchased Online Below we will donate $1 to the American Cancer Society

Join a Dealer Ride to the Calendar Show Leaving at 10am Sunday and save $5 on Admission!
Meet up at 9am Sunday Morning at one of the Dealerships below for coffee and a store tour, the rides will leave at 10 am for
a group ride through the Santa Monica Mountains to the Calendar Show where you'll receive $5 off the $20 admission.
• Bartel's Harley-Davidson / Route 66 Rentals, 4141 Lincoln Blvd, Marina de Ray 90292 • ph 310-578-0112
• Pro-Italia Triumph / MV / Aprilia / Ducati / KTM , 3600 North Verdugo Road, Glendale 91208 • ph 818-249-5707
• Ducati Westlake, 3610 E. Thousand Oaks Blvd. Thousand Oaks, Ca 91362 • ph 805-719-4380
FREE PANCAKE BREAKFAST AT DUCATI WESTLAKE served: 9:30-10:30AM Before Ride to Show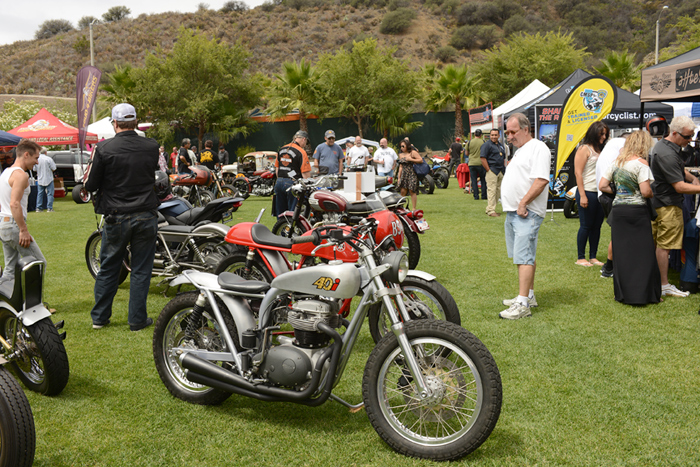 In addition to the LA Calendar Motorcycle Show's Calendar Bike Building Championship Best of Show and Class Awards,
AFT Customs will present its Visionary Award Trophy for the most innovative and exciting bike at the event.
Spectator Special Interest Bike Parking Inside the Show Grounds!
Spectators with nice Collector / Custom / Cafe / Special Interest Motorcyles will be invited to park on the grass inside the Calendar Show grounds as space allows* You must come early between 10:00 - 10:30 am to the Show entrance with your bike for us to approive it for In-Show Display. We do ask that your bike remians in place until the close of the Show at 4pm. You can also get confirmed pre event approval from Jim Gianatsis to park your bike in the Show if you Email us Here a nice picture of the bike.

*You are parking on grass so please bring some sort of kickstand pad / piece of wood to place under the side stand to prevent it from sinking into the ground. And if the event is crowded, for safety reasons we do require the bike be Pushed, and not Ridden on the event lawn.
You acknowledge that you have full Liability and Damage Insurance for your Motorcycle and you accept full damage and injury responsibility incurred by you and your motorcycle while inside the Show, and tha the LA Calendar Motorcycle Show, Gianatsis Design Associates, the Malibu Golf Club are not liable / responsible any damages or injuries incurred by you and your motorcycle.

Victory Jon Highway Photos at the Show!
Get Photos of You and Your Bike with a Calendar Kitten. Professional Photographer Victory Jon will be at the show with a studio lighting setup to photograph you and your bike with a beautiful Calendar Kitten. After the Show you can purchase and download hi-resolution files of your favorite shots for Facebook and Photo Print Ordering at - http://www.HighwayPhotos.net


Purchase Advance Spectator Tickets, Bike Contest Entry & Vendor Space HERE!
Space is limited and will sell out - So Don't Delay. Parking is Free. Advance Ticket Sales are Non-Refundable.
Support the Fight Agains Cancer! $1 from each Advance Ticket Sale will go to to the American Cancer Society.
All Advance and Walk-Up Ticket Sales Are Non-Refundable.
Should we near spectator capacity, Admission will be limited to Advance Ticket Purchase Holders Only..
FREE PARKING! Spectator Car & Bike Parking in the Golf Course's paved parking lots.




Ron Baldonado and his 2013 Show Classic American Class winning replica Board Track race with girls
from the band Nylon Pink and Calendar Kittens Sara and Jessica.
Celebrity Builders from Around the World Bringing Hot New Bike Premiers!
The Los Angeles Calendar Motorcycle Show features many of the world's top Pro and Amateur custom street bike builders in attendance with their newest 2-wheeled creations of rolling art to compete in the Calendar Show Bike Building Championship for cash and awards including the coveted Best of Show Trophy. The Calendar Show is broadening its focus to include the growing Collector Bike Market with Exhibitors and Bike Show classes for classic European, British and Japanese motorcycles, along with American V-Twins and Customs. Show Entries will be placed in a Concours d' Elegance display throughout the venue.




Ledendary Builders featured in the popular FastDates.com Iron & Lace Custom Motorcycle PinUp Calendars plannihg to attend include Russell Mitchell / Exile Cycles, Richard Pollock / Mule Motorcycles, Ron Simms / Ron Simms Customs with
his Big Rig Display, Jim Guiffra & Spokesmodels / AFT Customs, Chris Redpath / MotoGPwerks,
Shinya Kimura / Chabott Engineering, and Adrian Packet / Canyon Motorcycles pictured above with
Calendar Kitten Lindsay Hancock who will be in their display posing for pictures, and many more!
Nylon Pink, Lily Elise and Katie Cole - Performing at the LA Calendar Motorcycle Show
Headlining the live Calendar Girl Music Festival entertainment again this year are three incredibly talented and beautiful girl groups - the Japanese girl rock band Nylon Pink back by popular demand for the 3rd year, plus beautiful singer songwriters
Lily Elise from TV's The Voice with guitarist Sebastian Bently , and Australian songstress Katie Cole. These girls are going to knock your socks off! Check out one of Katie's latest music videos here: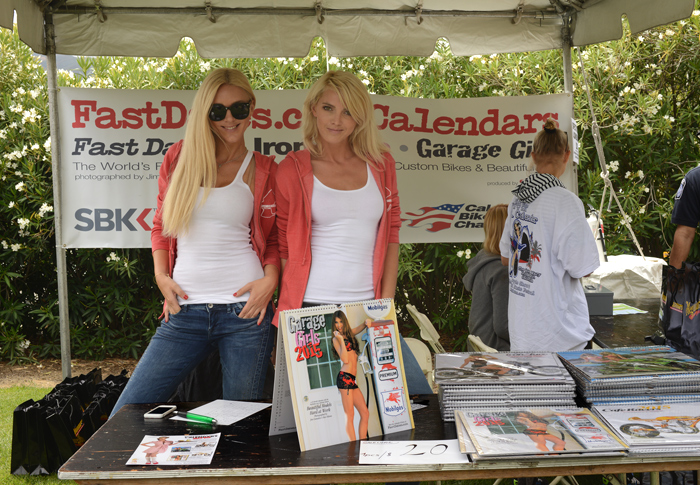 2014 Calendar Show Hosted by official SBK Grid Girls Jitka & Petra from the Czech Republic!
The official Starting Line and Podium Girls of the SBK World Superbike Championship, we will be flying in beautiful Czech Republic super models Jitka and Petra (pictured above) to work and shoot with us a the Laguna Seca USA World Superbike round in Monterey on July 10--13th, then they will join us in Los Angeles to host the 2014 LA Calendar Motorcycle Show and shoot with the winning bikes for the next FastDates.com Calendars. Both girls are featured in the current 2014 FastDates.com Calendars, and in the new 2015 Calendar which will premier at the Show.
Exclusive Bike Builders Showcase
Got a really nice custom, vintage or sportbike bike you 'ld like to promote or sell, but don't want to work a higher cost booth booth all weekend? You can park your bike inside the Show Grounds for display with signage, contact information and and literature, and be there in person to meet with potential buyers. Just purchase a $45 Bike Contest Entry. No canopies or coolers allowed.


AFT Metric Customs Garners it's 8th Straight Calendar Show Win!
Now 8-time Show winners Jim Giuffra and the spokesmodels at AFTcustoms.com worked hard on their latest custom bike build Cimeron which premiered at the 2014 LA Calendar Motorcycle Show in Malibu to take the Pro Builder Class win.
They award their special AFT Visionary Trophy Award presented to the most innovative new custom at the Show which in 2014 was the Honda CBX custom from ImageVehicles International.
World Premier of the New 2015 FastDates.com Calendars!
The annual LA Calendar Motorcycle Show always kicks off the world premier of next year's new 2015 FastDates.com Motorcycle PinUp Calendars featuring the world's top road race and custom motorcycles with the beautiful Calendar Kittens featured in the Calendars in attendance at the Show. Show Producer Jim Gianatsis will be photographing the winning bikes on Monday after the Show to appear in the Motorccyle Magazines and the next FastDates.com Calendars.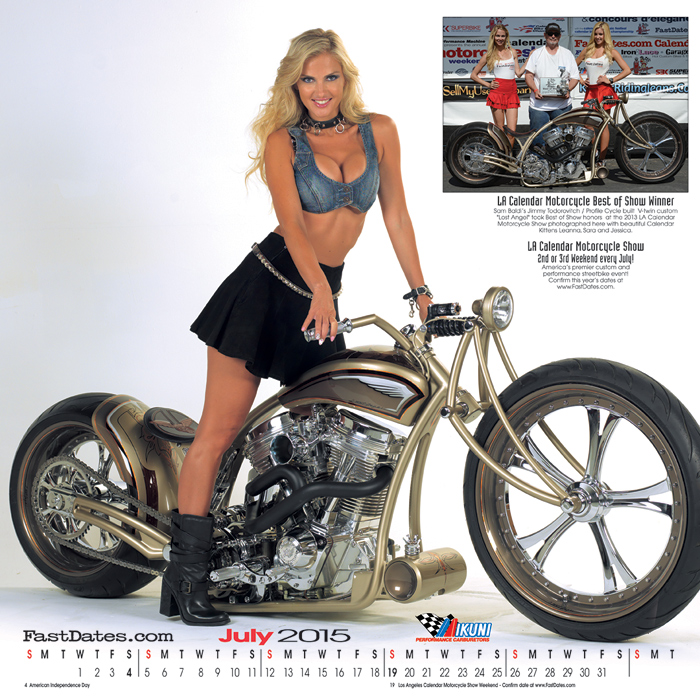 2013 LA Calendar Motorcycle Best of Show winner Sam Bladi / Jimmy Todorvitvh, Profile Cycles presented here by FastDates.com Calednar Kittens Sara and Jessica, has his bike photographed by producer Jim Gianatsis for the new
2015 Iron & Lace Calendar which will premier at this year's Show!
Awesome Food and Drinks featuring Baby's Badass Burgers!
The VIP Lunch Ticket features your Food Menu and Soft Drink Choise from the celebrated Baby's Badass Burgers - rated one of the Top Food Trucks in Los Angeles (VIP Ticket Holders go to the front of any line). Also available inside the Show is Palazzolo's Gelato & Sorbetto and the Malibu & Vine Beer and Wine Concession. Also at the event location is the air conditioned Malibu Golf Course Restaurant and the outdoor Malibu & Vine Wine Bar with shaded Lawn Tables and Chairs.
- Complete 2013 Calendar Show Coverge Here -
---