Calelendar Motorcycle Show Press Information & Hi-Res Images
Click on any Picture for a Hi-Resolution Image
Hi-Res PR Image- http://www.FastDates.com/BikeShow2013/CalendarBikeShow2013HiRes.jpg

Calendar Show Performers YouTube Videos
Nylon Pink / Run Devil Run: http://youtu.be/O0EJtCHGuN0
Lily Elise / Domino: http://youtu.be/_mWLuU1lwpw
Sara Horvath / ZZ Top - I Gotsta Get Paid: http://youtu.be/kaIZWjItReI
Sara Horvath / Escape: http://youtu.be/8nzIOiSAjJA
Los Angeles Calendar Motorcycle Show Concours d' Elegance & Calendar Girl Music Festival
Returns to the Queen Mary, Long Beach, CA on Sunday July 14th 2013
The 2013 LA Calendar Motorcycle Show continues its now 22-year tradition as the premier outdoor streetbike event in America
with top Celebrity Builders, the Calendar Bike Building Championship & Concours d' Elegance, selected Vendors and Exhibitors, and Calendar Girl Music live performances. The Show marks the world premier of next year's new 2014 FastDates.com Motorcycle PinUp Calendars featuring the world's top roadrace and custom motorcycles with the beautiful Calendar Kittens featured in the Calendars in attendance at the Show.
For complete information go to: http://www.FastDates.com/BIKESHOW.HTM
The Calendar Show is broadening its focus from the American V-Twin custom market which had so dominated bike events the past ten years, but has now been so affected by the economic down turn. The Show will still include its popular Pro Builder and Street Custom classes, Cafe Bike / Bobber, and Sportbike/Racebike Clases, and now also include the growing Collector Bike Market for European and Japanese Classics. Show Entries will be placed in a Concours d' Elegance displays on grass and patio walkways in the the Queen Mary's Seawalk Village.
Among the top name custom bike builders expected to attend are former LA Calendar Show winners and featured FastDates.com Calendar bike builders Jim Giuffra and the Spokesmodels of AFT Metric Customs, Russell Mitchell / Exile Cycles, Shinya Kimura / Chabott Engineering, Richard Lock / Mule Motorcycles, Todd Silicato / Todds Cycle, Chris Redpath / MotoGPwerks and many more.
The selected partners for the 2013 LA Calendar Motorcycle Show include Russ Brown Motorcycle Attorneys, Barnett's Bike Craft Magazine featuring retro and cafe bikes, and Source Media's American V-Twin Group of magazines Hot Bike, Hot Bike Baggers and Street Choppers.
The editors from each of the magazines will be in attendance to cover the event, assist in judging their sponsored classes, and choosing the top bikes to appear in their publications. Also, Thunder Press, the national motorcycle events newspaper returns as the Show's longest running supporter going back some 15 years. Show producer Jim Gianatsis will be photographing the winning bikes on Monday after the Show to appear in the Magazines and the next FastDates.com Calendars. In addition to the coveted Best of Show and Class Awards, AFT Customs will again present its Visionary Award Trophy for the most innovative and exciting bike at the event.
Headlining the included live Calendar Girl Music Festival entertainment again this year is the all-girl Japanese Rock Band 'Nylon Pink' who will just be returning from their world music tour. Also featured are two of America's most talented and beautiful signer songwriters. Lily Elise, a native Southern Californian, recently featured on NBC TV's The Voice, Season One - as a Finalist and member of Team Christina Aguilera, will be performing with her full band.
Joining them will be University of Montana graduate, professional model, actress and signer songwriter Sara Horvath who recently shot with producer Jim Gianatsis for the next FastDates.com Calendars. She is also featured in the latest ZZ Top music video - "I Gotsta Get Paid" as a drop-dead gorgeous hot rod racer. Sara will be hosting the Calendar Show's activities and performing her own music on stage.
While the Queen Mary's own gourmet restaurant culinary chefs will be preparing an incredible BBQ lunch menu that promises to exceed expectations of what is normally served at bike events. In all, it will be a full day of incredible bikes and builder, beautiful girls, music, food and beverages that will overwhelm all five of the human senses!
The 2013 LA Calendar Motorcycle Show & Concours d' Elegance is just $20 General Admission, and $40 VIP Admission includes a BBQ Lunch w/ Beverage and Queen Mary ghost ship admission. Show capacity is limited and advance ticket purchase is suggested. Purchase Advance Tickets, Vendor and Bike Contest Registration online at: www.FastDates.com/BIKESHOW.HTM.
The girls from the headline Japanese rock band Nylon Pink with calendar Kittens Lindsey and Sabella, and the Yaniv Evan / PowerPlantChoppers.com 1st Plass pro Builder Class winner.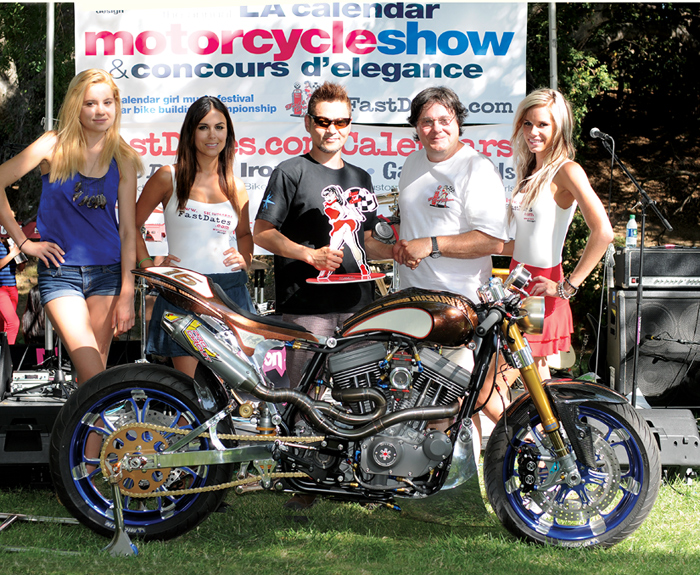 2012 LA Calendar Best of Show winner Hideki Hoshikawa and his bike 'Asterisk'. Pictured from left are Calendar Kittens Halle and Sabella, Hideki, show producer Jim Gianatsis, and Kinsey Ray. The unique aluminum die cut and laser painted
Calendar Girl logo trophies were produced by SicChops.com
---
Celebrity Builders Jim Giuffra and the Girls of of AFT Customs
preparing all-new Bike Premiers for 2013 LA Calendar Motorcycle Show July 14th
Los Angeles, CA, Jan 1st , 2013 - Builder Jim Giuffra and the AFT Customs Motorsports Models return to this year's 2013 LA Calendar Motorcycle Show on a 6-year winning streak which has already seen them take home a Best of Show and fire 1st Place Metric and Sportbike Class titles. All of the custom bikes emerging from AFT Customs shop in Jackson, CA, are the creation of shop owner Jim Guiffra, but are hand craft from the ground-up by the beautiful motorsports savvy trade show models represented by the AFT Modeling Agency. In fact two of the girls, Cyndi and Kristen, recently returned from Miller Electric Welding's corporate headquarters in Wisconsin where they received their TIG Welding Certifications. All of the Agency's girls are fully versed in motorcycle tuning, repair,and custom bike fabrication, making them the perfect spokes models for motorsports manufacturers at trade shows and consumer events.
For additional LA Calendar Motorcycle Show & Calendar Girl Music Festival details visit http://www.FastDates.com/BIKESHOW.HTM


The 2011 LA Calendar Motorcycle Best of Show winner "Sentoh from AFT Customs. From the left: FastDates.om Calendar Kitten Camilla, hostess Emily Jaye, AFT Customs models and builders Shelby, Nalani, promoter Jim Gianatsis, builders Sarah and Jim Giuffra, Show assistant Lee Chapin.
AFT Customs will be premiering two new customs at this year's Calendar Show. "'Senthoh' is based on a 1975 Honda CB750 SOHC, my first streetbike in high school and the first bike I ever customized, " explains Giuffra. "The name in Japanese means 'beginning' both for me as a builder back then, and for the AFT girls today. I'm keeping the bike's specification quiet for now, but I will tell you it is a cafe racer."
"Our second bike premiering is named 'Azumati' - its a VT750 Bobber/Street tracker being built on commission for the Jackson Rancheria Indian Casino. Asumati is a Miwuk Indian word meaning grizzly bear, the monarch of the forest. In Miwuk stories the bear is a symbol of great strength and courage. This bike will be just as fierce with a Yamaha R1 front end, Race Tech Piggyback Rear Shocks, a hidden radiator, CR450 front hub and brake."
For additional complete details go to LA Calendar Motorcycle Show.

---
Gianatsis Design is a full service event production, advertising, graphic design and photography agnecy serving the motorsports and sports fashion markets. Please consider Gianatsis Design and world renoun photographer Jim Gianatsis for your company's advertising design, editorial and photography service needs. Click on our logo below to preview our work and client list.
The Los Angeles Calendar Motorcycle Show is produced by
Jim Gianatsis, Gianatsis Design Associates
4801 Reforma Road, Woodland Hills, CA 91364 USA
PH: 818 223 8550 • Fx; 818 223 8590 • JGDesign @ FastDates.com