Berm Busters 2004
Exciting Action of the Top Factory Motocross Stars
together with beautiful celebrity swimsuit models
Sponsored by Alpine Stars featuring the top World and National factory motocross racing stars from Team Honda, Kawasaki, Suzuki, Yamaha and Husqvarna. You'll see SoCal's hottest pin-up models twisting the grips on the bikes ridden by AMA Stadium Supercross and Outdoor National Champions Ricky Carmichael, Jeremy McGrath, Travis Pastrama, and others.
Killer action photography by Kinney Jones. Together with studio shots of the beautiful FastDates.com Calendar Angels featuring Janelle Perzina, Joanna Krupa and Chandi Mason
as asexy threesome photographed by Jim Gianatsis

Only Available in our Collectors Corner

2004 Berm Busters
Action Motocross Racing
and Swimsuit Pin-Up Models
ISBN 1-57865-034-8


Click to Order Online

2004 Garage Girls
The FastDates.com Calendar Angels play dirty without the bikes getting in the way!
ISBN 1-57865-033-X

Order Online Now or by Phone!
Click on the Small Calendar Covers Above or the Links below:
Phone (01) 800-221-7291
Mon-Sat 8am - 5pm Los Angeles time
from Lockhart-Phillips USA
International (01) 949-498-9090
Phone (01) 800-461-1226
Mon-Fri 8am - 5pm Los Angeles time
from Van Leeuwen
International (01) 818-896-2200
Great Britain: Crossbow (44) 081-669-6400 • New Zealand: Northern Accessories (64) 9 276 6458
• For Additional Ordering Resources USA and Worldwide visit the Chain Links page
• New Distributor inquires go HERE.
Dealer Orders: Visit the Chain Links page for our Distributor Contacts Worldwide
Order early! News calendars available August 1st.
For Past Edition 1991-2004 Calendars visit our Collectors Corner.
Berm Busters & Garage Girls are full color 15 x 15" spiral bound calendars
revealing 16 months beginning with September. When ordering specify the calendar name, quantity,
your name, address, and phone number. 2005 Calendars will be shipped after August 1, 2004.
Mail with check, money order, Visa/MasterCard info for $16.95 each, plus $5 S&H per US order.
International orders should use charge card and specify Air or Ground shipment. Postal Mail Orders to:
FastDates.com Calendars, c/o Van Leeuween, 13275 Paxton Street, Arleta, CA 91331
Think you can handle them? The FastDates.com Calendar Angels are waiting for you in the
2004 editions of Iron & Lace, Garage Girls, Berm Busters, and in Member's Corner.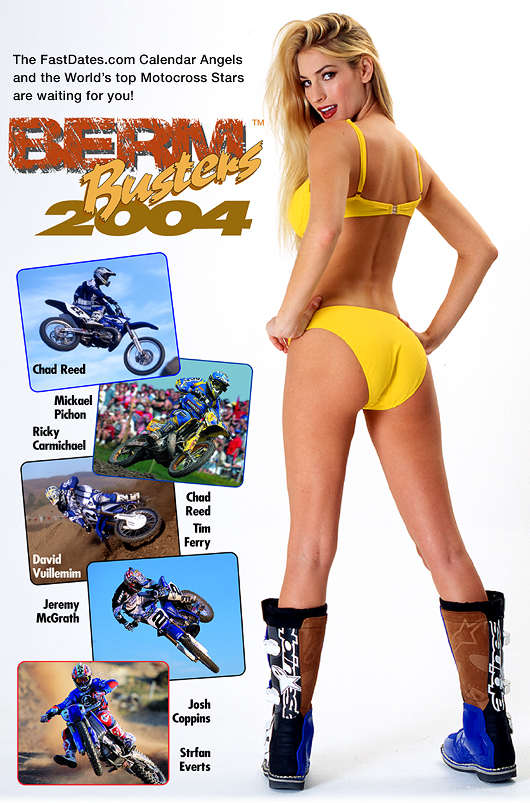 motocross, supercross, stadium cross, Inter-Am, Trans-Am, Trans-AMA, Winter-Am, Winter-AMA, Florida Series, Golden State Series, MX, 125cc Nationals, 250cc Nationals, 500cc Nationals, national, dirt bike, off road, Fast Dates, Ripped Pavement, Garage Girls, Berm Busters, Iron & Lace, superbike, grand prix, motorcycle, racing, roadracing, sportbike, sport bike, supermoto supermotard, World Motorcycle Championship, Grand Prix, SBK, FIM, WSB, GP, MotoGP, AMA, WERA, Honda, Yamaha, Suzuki, Ducati, Kawasaki, Aprilia, Bimota, KTM, CZ, Maico, Husquvarna, CCM, Rokon, Bultaco, CZ, Greves, BSA, Mikuni, calendar, calendars, pinup, swimsuit, bikini, thong, panties, bra, girls, girl, teens, model, supermodel, motorcycle, calendar, racing, roadracing, Gold & Goose, Jim Gianatsis, Kinney Jones, Bob Hannah, Roger DeCoster, Marty Smithy, Marty Tripes, Tony DiStefano, Dick Burleson, Brad Lackey, Tommy Croft, Pierre Karsmakers,Heikki Mikola, Gerrit Wolsink, Jimmy Weinert, Jimmy Ellis, Kent Howerton, Broc Glover, Mickael Pichon, Ricky Carmichael, Jeremy McGrath, David Vuillemin, Andrea Bartolini, Stefan Everts, Pit Beirer, Tim Ferrey, Joshua Coppins, Travis Pastrana, Chad Reed, trophy girl, grid, paddock, umbrella girl, trophy girl, Mikuni, Pit Lane News, Paddock Garage, Sports Illustrated, Sauvage, Victoria's Secret, Penthouse, Pirelli, Dunlop, Michelin, Playboy, Perfect 10, Cycle News, Racer X, Motocross Action, Laguna Seca, Daytona, photo, photography, Lee Ann Tweeden, LeeAnn Tweeden, Angelia Jolie, Zdenka, Joanna Krupa, Janelle Perzina. Linda Sobek, Cindy Margolis, Valerie Bird, Gabrielle Tuite, Pamela Anderson, Rebecca Chaney. Jaimie Pressly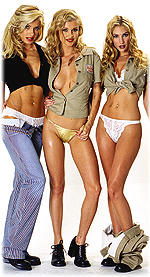 Members Corner!
View the 2004 Berm Busters Calendar photos and sexy photos of the FastDates.com models!
See all the top factory AMA motocross and supercross bikes with the FastDates.com umbrella girls including complete modeling porfolios of our beautiful FastDates.com Calendar Angels Chandi Mason, Janelle Perzina, and Miss Great Britain 2003 Nicki Lane! Plus Penthouse Pet of the Year Zdenka, Playboy Playmate Natalia Sokolova, Brooke Johnson, Taylor McKegney.

Featuring high quality screen saver size imagesof the top MotoGP and Superbikes including Troy Bayless' Ducati 998F, Colin Edwards' Honda
SP-2, and many more!
Free Paddock Garage
admission when you join...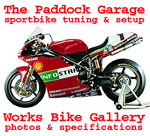 ---
2003 Calendars
still available on Amazon.com
Click yo order...



---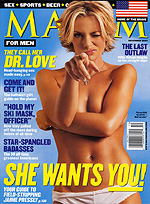 Our FastDates.com Calendar Girl
Jaime Pressly wants YOU!
Click to subscribe to MAXIM, Playboy, Penthouse, Superbike, Sport Rider and more..

Click to Order

Past Edition 1994-
2002 Berm Busters
Jeremy McGrath,
Ricky Carmichael
LeeAnn Tweeden,
Jaime Pressly
and more!
---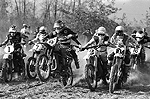 Classic Motocross
Photography by
Jim Gianatsis
---
Webmasters
make money . . .
selling the world's most popular motorcycle pinup calendars - the FastDates.com Calendars and for sending us traffic!