Motorcycle Performance Tuning & Suspension Setup
with the Top Builders & Factory Race Teams
Complete Performance Tuning, Race Preparation and Parts Information, Custom Bike Building
from Jim Gianatsis with the top Custom Bike Builders, Factory Teams in AMA and World Superbike racing.
Editor, Pro Racer, Test Engineer and photographer Jim Gianatsis has helped develop many factory racebikes and set up the superbikes of National Champions including Wes Coley, Eddie Lawson and Wayne Rainey. Jim is one of the few motojournalists in the world with direct access to the top factory race teams. Jim explains the theory and basics of bike handling and suspension tuning, and engine performance modifications, shows you how to correct any shortcomings or problems with a particular model sportbike, and gives you the best, most cost effective ways to improve them.

– CLICK HERE TO JOIN –
Low $6.95 Monthly Recurring -or- $24.95 Non-Recurring Annual Subscription
Your Low Cost Membership is a Great Value and Includes...
The Calendar Bike Garage - Photo Features and details of the top Calendar Bikes!
Arlen Ness, Roland Sands, Jessie Rook, Jessie James, Dreamcraft, Richard Pollock, Shinya Kimura and many more....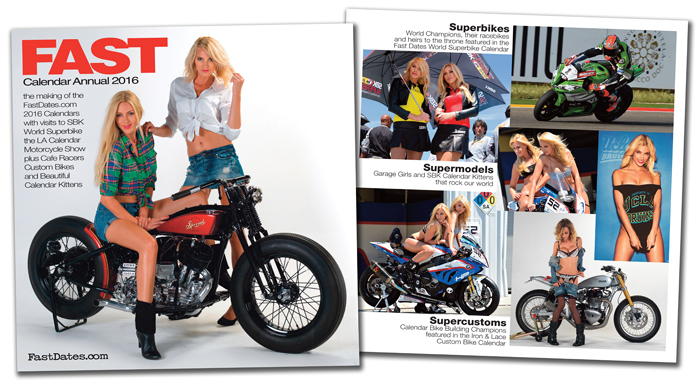 NEW! FAST 2014, 2915, 2015... Digital Magazines
takes you behind the scenes of the FastDates.com Calendars!

Go with us on the photo shoots at World Superbike, meet the Calendar Kitttens, the top factory racers and bike builders, see photo features on the top calendar and race bikes. Take a track day with World Superbike Champion Troy Bayliss at Misano, take an Edelsweiss Ducati World Superbike tour of the Ducati Factory & Museum and across Italy, ride a Vespa scooter around Paris and party at the Crazy Horse and the Moulon Rouge. Hang with beautiful teen rock star Taylor Momsen of the Pretty Reckless.
Did we forget anything? - Oh yes, see every page in the new Fast Dates, Garage Girls, Iron & lace Calendars!
Each isue is 110+ pages in High Resoluton The FAST Digital Calendar Magazine are included in Members Corner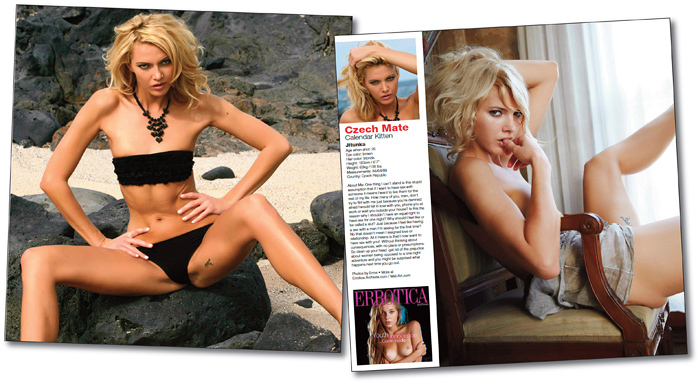 FastDates.com Calendar Kitten Feature Pictorials, Calendar Screensavers!
Revealing pictorials of the hottest of our Calendar Kittens, many of them Playboy and Penthouse centerfolds.
Click Here to Join
Click on the Contents Listings Below to Enter the Paddock Garage
NEW! Paddock Garage Store
• Performance Parts The best Performance Products from Mikuni, Akrapovic, Arrow, DynaJet and more at LOW DISCOUNT PRICING

- General & Advanced Tuning -

SUSPENSION SETUP, TUNING
• Suspension Basics
• Basic Suspension Setup and Tuning
• Racing Suspension Setup and Tuning
• Advanced Chassis Setup and Tuning
• Suspension Operating Theory
• Steering Trail & Angle Explained
• Spring Rates, Straight & Progressive
with Ohlins Spring Rate Charts / Part #s
• Ohlins TTX Shock Manual PDF
• Ohlins TTX36 Spring Chart XLS
• Ohlins Suspension Fluids Chart PDF

FUEL INDUCTION TUNING
• Sportbike Carburetor / Injection Tuning
by Jim Gianatsis, Mikuni American,
and Marc Salvisberg of Factory Pro Tuning

- Specific Sportbike Setup -

Aprilia - HOT!
•1999-2003 Mille to Tuono Conversion!
Exclusive FastDates.com Project Bike - We show you how to build an $18,000 Tuno Racing for just $5,000 Total Cost! Alone worth the price of Membership!

Ducati
Includes The official racing parts catalog and ordering information and technical support from the factory Ducati Corse Race Team!
• Ducati 1199 Panigale Superbike
Complete setup tips - 11999 Superstock and 1199R
Includes the offical Ducati Corse Race Parts Catalogs S
• Ducati 848/1098/1198 Superbikes 2007+
Complete setup tips... Handling Improvents that will make your bike easier to ride and shave 1-2 secs off lap times
• Ducati 749 / 999R Superbikes 2005-2006
Complete setup tips... Dyno testing the new 57mm Termignoi Full Race System on the 999R05!
• Ducati 748 / 916 / 996 / 998 & Monster
Tuning, Preparation and Setup Tips.
• Ducati 749 / 999 Superbikes 2003-2004
Complete setup tips, what's hot and what's not, and a cost per Lb and HP for performance gains.

Honda
• Honda CBR600RR 2004-2006 NEW!
• Honda CBR1000RR 2004-2006 NEW!
Prepared by World and AMA Superbike race winners Ten Kate Honda / Chris Vermeulen and
Al Ludington for Miguel DuHamel / American Honda
• Honda CBR929RR
Erion Racing's setup for Kurtis Roberts'
2000 & 2001 Formula Extreme winning bike.
• Honda CBR900RR, CBR600F4
prepared by Erion Racing, AMA Formula Extreme & 600 Supersport Champions

Suzuki
• Suzuki GSX-R750 2001-2004 prepared by AMA National SuperSport Champions Team FastDates.com EBSCO Corona Extra Suzuki
• Suzuki GSX-R 600 and 750 1999-2000
prepared by AMA National Superbike Champions Don Sakakura / Team Yoshimura Suzuki, and AMA 750cc Supersport Champions Kel Carruthers
• Suzuki GSX-R1000 2001-2005
prepared by AMA National Champions Team FastDates.com
EBSCO Corona Extra Suzuki

Yamaha
• Yamaha YR1 Generation 1&2 1999-2003
prepared by Chuck Graves, Graves Motorsports / Team Yamaha. Kick butt with our 2002 Fast Dates Calendar cover bike and Laguna Seca Extreame winner!
• Yamaha YR1 Generation 3 2004-2005
• Yamaha YR1 Generation 4 2005-2006
Factory World Superbike & Supersport tuning, parts.
• Graves Daytona Superstock class winner.
• Norick Abe and Nori Haga 200506 World Superbike winner with Giant 1224 Screensavers!
• Yamaha YR6 prepared by Chuck Graves,
Graves Motorsports / Team Yamaha
• Yamaha YR6F & YRF1 2002 & 2003
Factory Yamaha Racing parts list and
ordering information.

Kawasaki
• Kawasaki ZX6, ZX7, ZX9, ZX10, 11&12
Supersport and Superbike preparation with Mike Preston, Team Manager, Kawasaki Racing
• Kawasaki ZX6RR 600/636cc 2003-2004
Building Eric Bostrom's 750cc Class Giant Killer
• Kawasaki ZRX1100 / 1200 prepared by Rob Muzzy, Muzzy's R&D, and Al Ludington, Team Kawasaki, AMA Superbike Champions. With Craig Ramey's ZRX1100 180 HP Superbike!

American V-Twin / Harley-Davidson
• Mikuni HSR Carburetors